==> [!!!] Drag Your Ass Over Here

==> [!!!] Notes

==> Extra Information About This Douchebag

==> Headcanons

==> Relationships

==> [S] Theme Song

Admin: Online | Hiatus | Lurking | Chatting | Offline

((Wanna talk with me, the Admin? Just call me Griggy since a lot of my friends calls me that. uvu You will not know the secret behind that name heheheheh))



.:.:.:.:.:.:.:.:.:.:.:.:.:.:.:.:.:.:.:.:.:.:.:.:.:.:.:.:.:.:.:.:.:.:.:.:.:.:.:.:.:.:.:.:.:.:.:.:.:.:.:.:.:.:.:.:.:.:.:.:.:.:.:


Full Name: Arthur 'Oliver' Kirkland
Gender: Male
Age: 23 (Appearance) ; -Confidential, please insert password to unlock data- (In Game)
Birthday: April 23
Height: 5'9"
Weight: (That's awfully rude to know…) 130 lb
Relationship Status: Single
Hair Color: White-Blond with a hint of Pink
Eye Colors: Blue and Pink
Ero Zone(s) : Eyebrows, Neck / Near Where The Head And Neck Is Separated By The Cut
Appearance: On a normal day, in which his admin doesn't do anything to Arthur or his clothes, he wears a light pink long sleeved dress shirt with a purple sweater vest over it. He actually wears makeup because he dislikes showing the freckles that is scattered on his body. Arthur always have a large grin on his lips, taunting half lidded eyes, and a jump to his every step. To top it all off, he also has an aqua blue bowtie around his neck for special purposes.
Personality: Arthur is mainly a really optimistic, cheerful man with a hidden crave for killing in situations that needed such. He'll poke fun at others, especially his 1P, and bring out the happy atmosphere in almost everything. First timers on meeting this man will always receive a nice greeting and possibly a chat, since he is a chatter head. Get the worse out of him, and you'll see the very opposite, sadistic side of him. But mostly, he can be a child with a Chesire Cat grin, sometimes pulling pranks and maybe surprise a few people for his own fun. Be cautious around him as he can think of horrible actions as if they were the right thing.


SoUlS Aquired: 17 "Wonderful how this collection is growing~!"

WoUnD3D Victims: 2 "Oh what terrible thing happened to them~?!"

D3th's Caused: 1 "Woops, my fingers slipped~."

'Gm3 Ov3r' Count: 1 "Well that's awfully mean of you..."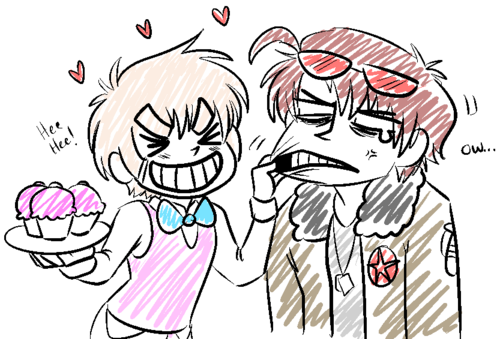 -Other RP Accounts-
~Homestuck~

masked-bird (Heinoustuck!Dave Strider)



fibbing-puppeteer (Guidestuck Cal Strider)



2eeiing-bee2 (High!Sollux)


Would you like to meet my plushie~? I'm sure he'll love to have another friend~.